How Long Do Hair Extensions Last?
When it comes to investing in something, the first question you may ask is, "How long will this last?"—whether you're talking about hair extensions, shellac manicures or even something as basic as a jar of your favorite night cream; and rightfully so. When you spend your hard earned cash on a product, it's important to keep in mind how much, and how long it'll last for you. 
So today we're going to dive into the different kinds of hair extensions available and how long each of these would last you. To help you educate yourself about the various types of hair extensions available, we're giving you the lowdown on what these hair extensions are, how long they last and how you can take care of them so that they last as long as possible.
Regulai Hair Extension (2-4 months)
This type of hair extensions usually last up to 2 to 4 months, depending on how well you treat them. This covers how you wash your hair, how often you style with heating tools and even using the right hair brush since these extensions are attached at the root of your natural hair.
    1.  Tape in Hair (2-3 months)
Tape In hair extensions will last you anywhere from 2-3 months. If taken care of well, you can have the same extensions taped back in for a fresher look.You can extend the life of your hair by replacing the tape.
    2.  Clip in Hair (2-3 months)
If you regularly use your clip in hair extensions and care for them well, they can last you anywhere between 2-3 months and sometimes even over half year. But again, like all hair extensions this depends on how well you take care of them.
Virgin Hair Extension (6-12 months)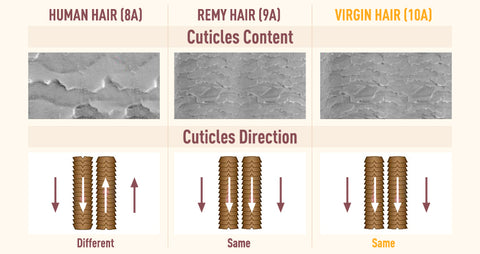 Virgin hair comes from one thick ponytail from a hair donor that has never had any chemical treatment on their hair. Virgin remy hair lasts longer and is much less likely to tangle than non-virgin Remy hair, In a nutshell, all virgin hair is Remy but not all Remy hair is the virgin.
So, the use time of virgin hair is twice as long as regular hair extension,or even longer.
If you have any questions, please feel free to contact us. 
2 comments