How To Cut The Grease Without Damaging Your Hair Or Irritating Your Scalp?
When your scalp is really oily, your hair can get weighed down and styling can become more difficult than it ought to be. To find out how to train your hair to be less greasy, read on for helpful advice from expert hairstylists.
Wash Your Hair With a Sulfate-Free Shampoo
For the first few uses of a sulfate shampoo, your hair might feel squeaky-clean, but over time your body could overproduce oil to make up for the dryness. So to keep the greasiness to a minimum, opt for gentle, sulfate-free shampoo formulas to cleanse your strands without stripping your scalp or hair of the oils necessary for strong, healthy hair.
Rinse With Apple Cider Vinegar
On day four or so, we'll let you cheat a bit and do an apple cider vinegar (ACV) rinse in warm (not hot) water—hot water may be too drying. Many people believe that raw, organic apple cider vinegar, like Bragg Apple Cider Vinegar is acidic enough to restore the pH balance of your hair and rid the scalp of buildup, yet mild enough that it doesn't strip your strands of essential nutrients. And, according to Thompson, it's also gentle enough to use on color-treated hair. While in the shower, pour a bit of apple cider vinegar mixture into your hair, work it through your roots, and rinse it out. Not only will it remove the oily buildup, but it will also leave your hair unbelievably soft and shiny. Win-win. For the ACV mixture, you'll want to mix about 2-3 tbsp of apple cider vinegar into a bottle of water to help balance the acidity.
Limit Your Product Use
How long you can go between washes depends on your hair type and texture (fine, thick, wavy, coily, or damaged hair, for instance), but try to prolong the time between washes as long as you can (anywhere from every other day to once a week). And remember two key things afterward: touch it as sparingly as possible, and don't overuse styling products or dry shampoo.
Let Your Hair Air-Dry
Believe it or not, blow-drying too much can also cause your hair to produce excess grease, so try letting your hair air-dry instead. Sure, air-drying can be time-consuming, but there are ways to speed up the process. After washing, we recommend using a leave-in-conditioner on your ends rather than oil because it keeps your hair looking fresh while reducing your dry time. Touching your hair too much before it's dry may create frizz, especially on wavy or curly textures, so try applying your products and letting your hair sit until it's dry.
Rinse With A Lower Temperature
Just like hot baths dry out your skin, washing your locks using a higher temperature will dehydrate both your hair and scalp. In return, this will cause your sebaceous glands to overproduce to make up for the lost oil.
This involves starting off washing your hair with warm water, not hot, to ensure that you can get plenty of foam to work into the scalp. However, once you have finished washing your hair, give it one last rinse with cooler water. The warm water will open your hair cuticles, allowing you to cleanse thoroughly, then the lower temperature will close them, trapping all of the goodness from your products in your hair and scalp.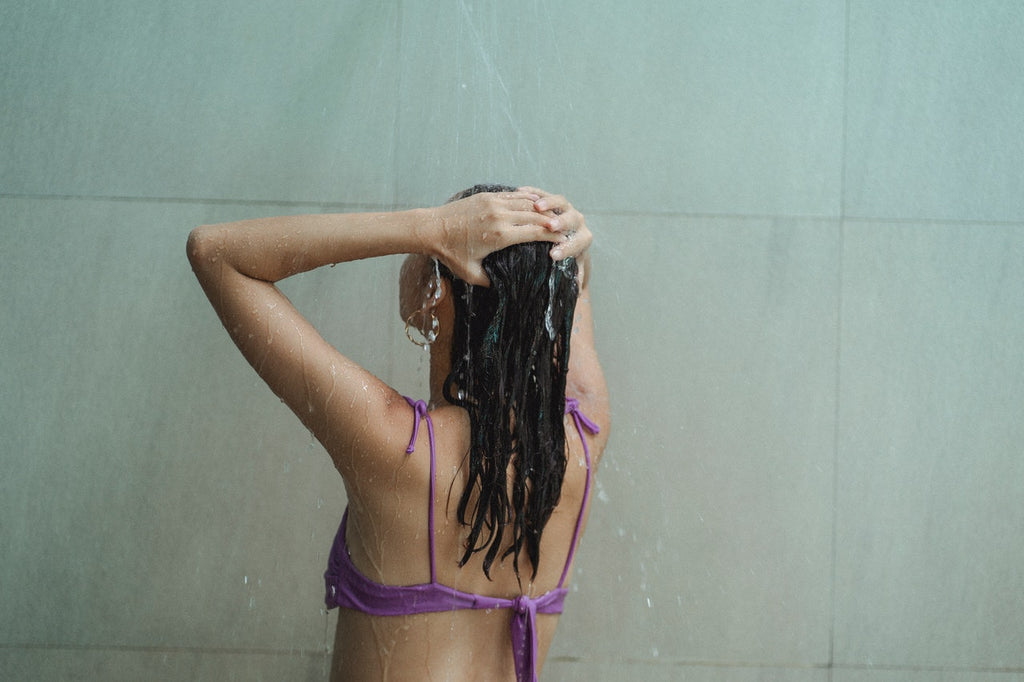 Use A Boar Bristle Brush
There is nothing better than smooth, tangle-free locks, but it is important to find a brushing balance. Overbrushing your hair starts to stimulate your oil production, meaning that although at first, your hair may look beautifully glossy, within a day, it will turn to grease. Brushing your hair too little, on the other hand, allows oil to build up on your scalp, making the top greasy but the ends dry. The key to finding your balance is to use a paddle boar bristle brush as it allows you to grab any excess oil from your scalp and evenly distribute it down to the ends. Try to limit your brushing to first thing in the morning then again before you go to bed.
This way, you'll be well on your way to keeping your hair clean and grease-free longer.